So, I've took the nerve-wracking decision to quit my full-time job to fulfil my lifelong dream (at 25) of starting my own business.
At the moment, I have a senior role at iProspect UK as an SEO Account Director. I have big-brand clients and a 6-person strong team where we go on our nerdy SEO adventures pretty much tell Google whose boss, obviously. In short, it's great.
But, in the past year I've be given a few amazing opportunities outside of iProspect that will now form the basis of Kaizen, my own SEO agency, which I incorporated last week for a small £15 fee + £100 in capital.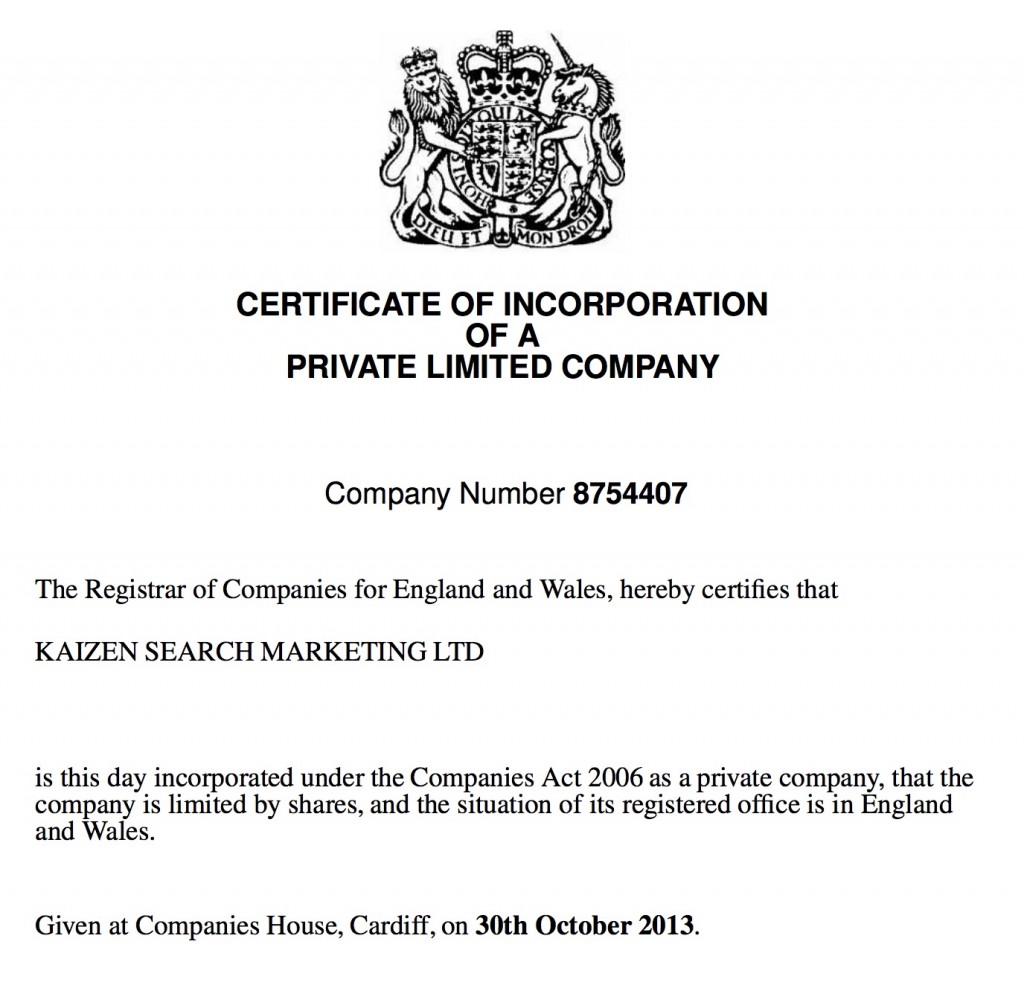 Kaizen (改善) means 'improvement' or 'change for the better' in Japanese. It's also known as the process of continuous improvement in business, which I think is a great representation of what the very core of SEO is, and the way I try to work.
To prevent the very realistic risk of becoming homeless in 2014, I've been saving like crazy to so that I can setup my little empire. I've raised a healthy sum of money in savings (or as I also like to call it, 6-months rent + beer money) providing a little window of financial freedom to really go for it.
So what will make Kaizen unique? Especially when SEO agencies are progressively becoming as common as chip shops these days!
2 USP's
Firstly, and I'm being a bit arrogant here – I believe that I am truly unique enough myself to standout from the crowd, with my own approach to SEO that's fuelled by my nerdy background and experiences gained from it.
Also, I think the most unique part of any successful business is it's founder (think Mr Zuckerberg, Mr Branson, Mr Jobs).
I grew up in the forgettable midlands, building my own websites from 11, the biggest of which (Kingdom Hearts Ultimania) drew 80K daily visits at it's peak – purely because of it's content, community and tireless hours of outreach that sparked tons of natural links.
It was only 3 years after launching this site I heard of SEO, but in fact I had been doing it all along. I want to take the core of that philosophy and do it for businesses big and small. Now on to my second point.
I feel there is a HUGE misconception in SEO at the moment that if you just make an awesome tool or a flashy, parallax scrolling infographic, the links, shares and eventually the rankings will just come.
Google themselves are part-blame for this, and too many businesses are buying into the myth. The great secret of modern SEO is that it's not just making amazing content, but having a killer battle plan in place to get that content in front of the right audience, thats what gets you awesome links. Although, it's so tough to do right, but, I believe I've stumbled upon a few very original ways to do it.
As a hint, it isn't just sending a generic email to a list of bloggers begging them to post your infographic on "the history of toothpaste" – although I would definitely share that on at least MySpace.
I'll have to hold off for now on sharing what I have in mind (wouldn't have much of business!) but from January 1st 2014, I'll be living and breathing it.
Wish me luck!