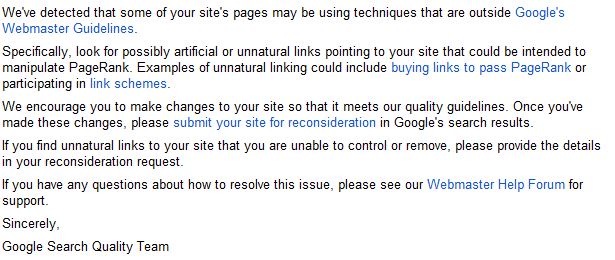 August 2012 Update: Folks, this advice mainly relates to the sites who receive the more 'serious' Unnatural Links messages (you'll receive an email notification and a 'yellow triangle' in your webmaster tools panel). Before you undertake a huge link removal project, I'd only proceed if you have seen a big impact on your search rankings following the message. I'll be working on a newer, expanded version of this post soon that works across all situations.
Simple answer, stop buying links and simply, buy better ones (just kidding).
Leaving the ethics of buying links aside, Google over the past few months has sent (apparently) over 700,000 messages to Webmaster Tools accounts notifying that links within their backlink profile maybe breaking the Google Webmaster Guidelines. You've got this as there are either links you've bought that Google has identified, or you've oddly attracted a lot of link spam naturally!
I'll admit – this message has hit in the inbox of a couple of websites that I work on, and it's scary stuff. So what's the best thing to do?
Ignore all of the other blog posts, giving you vague, useless advice – I'm here to actually help.
1) Sense Check
Before you end up getting a refund on those 10,000 directory links you bought for $5 off Fiverr – check your rankings and see if any of your key search terms have took a major nosedive. Afterall, message or no message – that's what you ultimately care about.
2) Audit Backlinks
Unfortunately, Google doesn't give you a steer on which links exactly are contravening the guidelines. But, let's face facts – the second you hit that Pay via PayPal button (Paypal would be NOTHING without SEO) the rule breaking started. Nevermind.
You need to audit your backlink profile and 'red flag' those that breach the Google Webmaster Guidelines – I suggest as follows:
Export all the available Link Data within Webmaster Tools into Excel
Google filters link data by the highest number of links by unique domain, for a spot check you may wish to run-through the top 100 or so.
Red flag any links with the following traits (aka obvious paid links)

Listings on Directories built for SEO Purposes
Article Submission Sites
Text Link Ads aka Links on Blog Sidebars
Links via poorly built blog networks – a lot of the messages relate to links via these type of sites

21/04/12 Update: As additional check, see if any of the domains which are linking to your site have been de-indexed by Google. This is almost an assured signal of a link that needs removing. You can check this with the SEO Tools Excel plugin – run the  =GoogleIndexCount function and a zero represents a site not in the Google index.
3) Remove the Links of Concern
I won't lie – easier said than done, but contact the Webmasters who are hosting the links which appear of concern within your link profile and try to get them taken down.
4) To reconsider or to not reconsider
At this stage, you have two options – to submit a reconsideration request or not. Within the message, Google explicitly asks you to do this – but there is a question of whether or not there is a perceived value or benefit in doing so.
Option 1 
If by nature, this message is genuinely surprising to you and after auditing your link data, you unearthed spam links that weren't purposefully bought by you or via an agency – then absolutely, send a reconsideration request. To help you, I've wrote a template just below.
"Hello,
We have reviewed the links pointing to our site and have identified a number of un-natural links that we believe are against the Google Webmaster Guidelines under the following ways:
• Links intended to manipulate PageRank
• Buying or selling links that pass PageRank
We have took every effort to contact each of the webmasters who own these sites and request that the link be taken down immediately. We do not condone or approve of the existence of these links and appreciate the Webmaster Team informing us that a number of backlinks were of a concern
[Please find this list below] OR [link to Google Spreadsheet]:
• http://www.domain.co.uk (Rented Link)
• http://www.domain.co.uk (Direct Listing)"
Please advise if there are any further links of concern and we will request them to be taken offline immediately."
21/04/2012 Update: You should then receive an automated message within 48 hours acknowledging your request. Within a few weeks you may then receive another reply stating if your site does now, or continues not to meet the Webmaster Guidelines (if it doesn't – you've got more work to do). In rare cases, Google may supply you with a sample list of rule-breaking links.
Option 2
But, if you do invest in paid link building and plan to continue too – your best option really could be to strip down the negative links and simply not reply to the message. Google seems to only provide link data in special cases of natural link spam, and likely won't if it's very obvious ongoing paid link activity is taking place.
I admittedly, would love a world where paid links don't work – but they do, amazingly well, just look at the backlink profile of any Travel or Finance related SERP.  Food for thought, could these new developments by Google could potentially mean we're finally arriving at that point?
Conclusion
It certainly seems that blog networks in particularly are reaching retirement age, now spending there day slowly pacing the hallway with article spinners, link wheels and everyones favourite – directories.  Of course, all these techniques continue to work – but less so as the clock ticks on.